« The creation of this estate is a meeting - a love story between three people. These places, through the intermediary of an interpreter and the persistence of men, give birth to great wines. »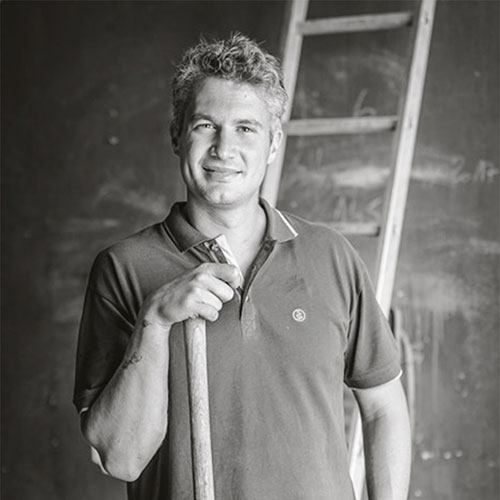 Domaine D'Ouréa, created in 2009 by Adrien Roustan, is located in the Hamlet of Fontbonne in Vacqueyras.
Passionate about vines and nature, Adrien took over part of his grandfather's estate and then acquired new plots in Vacqueyras and Gigondas. He converted the vineyard to organic farming in 2010 and named it "Domaine D'Ouréa" in honour of his highest plot of Gigondas located at 520 m above sea level on the southern slope of the Dentelles de Montmirail.
The vineyard covers an area of 20 hectares, spread over 18 plots and 4 distinct terroirs which are at the origin of the 4 vintages of the Domaine. The Vacqueyras plots are located in the north-west of the appellation on small slopes facing east and west, composed of blue and yellow clays on the sites known as Fontbonne, la Ponche, la Clapière and Betelin.
The grape varieties are: 65% Grenache, 20% Syrah, 5% Cinsaults, 5% Carignan, 5% Mourvèdre.
The vinification is traditional: hand-picked, non destemmed and then crushed, followed by a short infusion. Aged only in concrete vats to preserve purity and delicacy.
The whole production is sold in bottles in the 3 colours, with a majority in red.
4 appellations are produced: AOC Vacqueyras, AOC Gigondas, AOC Côtes du Rhône and the Tire Bouchon in Vin de France.