Domaine du Grand Montmirail – Vignobles Cheron
« Working with the vine and wine for 5 generations in order to offer you exceptional bottles to share with company! »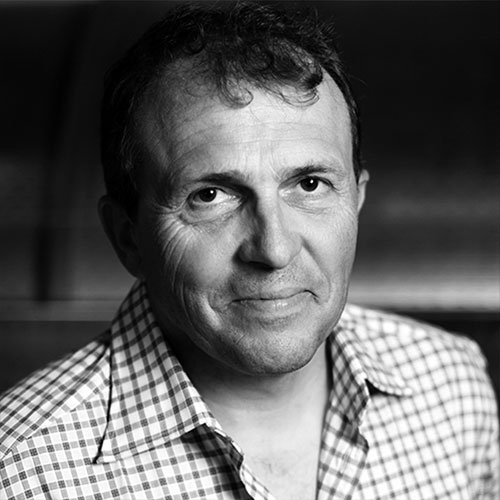 Yves CHERON: My roots are Burgundian. Grandson of Paul Misset, owner in Gevrey-Chambertin, I was born in Dijon in 1963 and lived in Beaune where I studied viticulture and oenology. Today, I am based in Gigondas, at the Grand Montmirail estate, from where I manage all my properties. Burgundy is an excellent school for expressing the finest fruit and aromas of the terroir, it provides a sensitivity that is unique to Burgandy. It has helped me to define the profile of the Rhône wines I make: elegance, finesse and silkiness.
At the Grand Montmirail estate: Our estate extends over 70 hectares, and it is a superb cirque facing south-south-east, dominated by granite cliffs nearly 100 metres high: Les Dentelles de Montmirail.
Planted by the Romans in the 2nd century, the vine finds here its most beautiful setting. Grenache, Syrah and Mourvèdre are the basis of the Gigondas, Vacqueyras and Beaumes de Venise red wines, while the fine-grained Muscat gives birth to our natural sweet wine, Muscat de Beaumes de Venise. Gravity vinification vat and air-conditioned ageing cellar in the centre of the estate.
The yields are limited, the meticulous care taken in the vineyard, the manual harvest with sorting, the vinification using the latest oenological techniques, the ageing in air-conditioned cellars without abuse of new wood. Everything contributes to offer you, for each of our wines, the best personality of the terroirs, the finesse of the aromas, the elegance of the structure, the fullness of the finest components of the wine.
La Cave Pascal: Since 1965, we have been working as winemakers in the Cave Pascal. Yves CHERON surveys the Vacqueyras vineyard in search of the best fruits of the appellation. The aim is to offer plot selections in partnership with small owners of low-yielding, carefully worked grapes.